Experiential learning provider of EMR simulations for colleges and universities.

Our purpose is to provide hands-on electronic medical record curriculum and software access that exceeds your program objectives. Our goal is to ensure students have job-ready skills and experience for their resume that gets them short-listed and hired. The EMR simulation by Choice Learning guides instructors through teaching various health software systems and helps post-secondary institutions enroll more satisfied students.

Education model:

Our training guides, videos, and workbook are created by us and are worded for a student. There is no need to create your own materials using clinic training materials that are meant for employees to follow.
Training that is segmented and combined with applied learning that is ideal for students.
All classroom-specific materials have been pre-recorded for your use and are available on demand.
Build your own online course using our preloaded materials.
Access the latest health technology.
Move your program ahead.
Increase your enrollment.
Instructors change, onboarding is provided.
Unlimited technical support for instructors and students.

WE ARE SPECIALISTS IN CUSTOM COURSE CREATION FOR HEALTH PROGRAMS.
Student and instructor satisfaction survey results for 2021 and 2022 are combined and charted below.
For two years running, more than 90% of survey takers responded with the following results. We are thrilled with the outstanding feedback. Thank you to those who responded.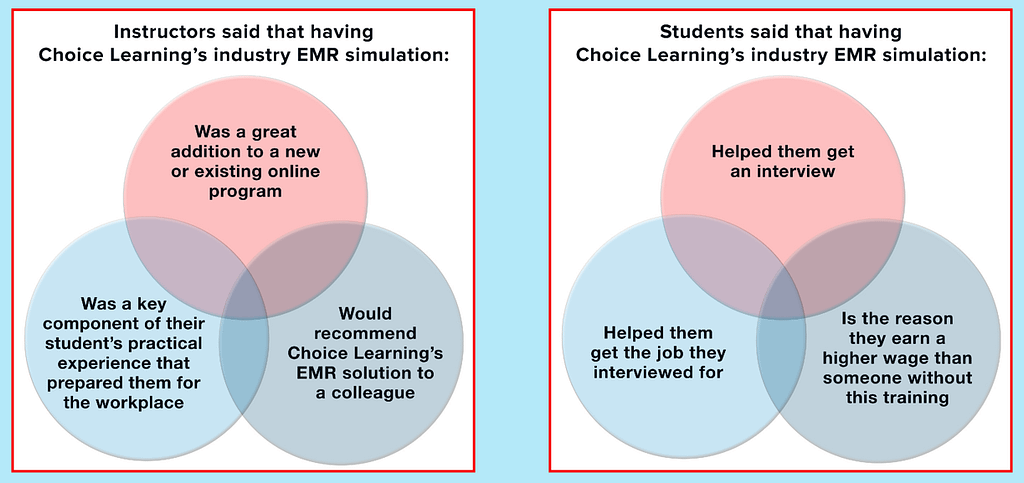 Choice Learning offers a cloud-based health office simulation for students, complete with workbook and EMR Software.
Choice Learning is the creator of a unique solution that allows industry EMR (electronic medical records) to be used in a classroom environment through our simulations, set up, and technical support. We provide hands-on learning opportunities for students in the health field to learn to create and keep electronic health records secure. We create ways students can produce real-life entries that can be evaluated. This allows participants to feel more confident in an interview and to be job ready in any health-related field.
As a third-party vendor that provides EHR educational experiences, we create our own teaching materials geared to the classroom environment. This allows us to stay on the leading edge of EHR evolution so our students lead the way in electronic medical record keeping.
Introducing the EMR Accelerator
YOUR TURN-KEY ELECTRONIC MEDICAL RECORDS CLASSROOM SOLUTION
Want to continue using your own EMR software and purchase materials only? This textbook can be used with any EMR software:
Your program is so helpful to the students, and I have loved simulating real life scenarios for my students utilizing it. It was great to work with you during my first two semesters teaching.
Juanita DeCastro
Professor, Office Administration-Health Services
George Brown College
Building Inspiring Solutions
Creating custom solutions for your classroom.