We strive to exceed your expectations by empowering you with access to the most popular software found in the marketplace today, providing you on-demand training, great quality resources, any by saving you time

We offer the only customizable and markable solution on the market.

We are the only company that uses industry software to create classroom solutions for college programs.

40,000+ students since 2009
*Value
EMR Accelerator College-Direct:
Instructional documents and videos for all EMR/EHR software (created by Choice Learning for classroom use)
Customizable curriculum that can be used over multiple courses
Use all of the software and modules or use some. (mix and match). Take modules and easily add them to your syllabus
Markable – all student's work can be marked and a grade earned towards credit courses
The industry software used in our training includes: Accuro, Jane, and Ocean
Choice Learning's unique processes ensure your academic EMR environment can be utilized to its full potential and all entries are tied to a specific user
Patient lists can be used in a centralized database
Student resource centre
Instructor resource centre
EMR, task-driven workbook that ties into the patient lists (Giving the student a real work, doctor's office, simulation)
Test results for each patient on the list (The experience students get can be added to their resume as it is as real to life as being an employee in an office)
Unlimited training for your instructors
Unlimited technical support for students
Test bank

Answer keys: Updated annually

Curriculum: Updated annually
Choice Learning develops healthcare curriculum at the post-secondary level and provides access to EMR software that has been incorporated into our hands-on training. Our partners are QHR Technologies (Accuro), Jane (Jane App), CognisantMD (Ocean), and WaiveTheWait. 
Choice Learning provides a cloud-based industry EMR simulation that supports asynchronous learning.  Our unique solution allows an industry EMR software to work in a classroom setting. Our simulation allows each student's work to be kept only in their view and the instructor can ensure academic integrity. Without our unique user setup, patient lists, and workbook, a student's knowledge of an EMR could not be reliably demonstrated.
Decide to act right now and transform your courses. Transfer the software management and updates to us and use a wide variety of current training materials and clinically relevant tasks. Your students benefit from having access to multiple industry EMR vendors and you can choose what you want to use over many courses. We use a subscription-based model that can be easily added to any program. To fast track your start, add us to your book or material list and know we have you covered. 
We offer:  
Employee level access to industry versions of electronic medical record systems 
Database can be shared by multiple program areas 
Medical simulation tasks for patients to be used with provided EMR software and workbook  
Ongoing instructor training related to the workbook materials 
Training guides and videos to support the provided workbook 
Patient lists for various demographic areas that are unique to each student    
Test bank and answer keys    
Instructors are set-up with audit trail capabilities for teaching and marking    
Real-time FDB and provincial billing updates    
Technical support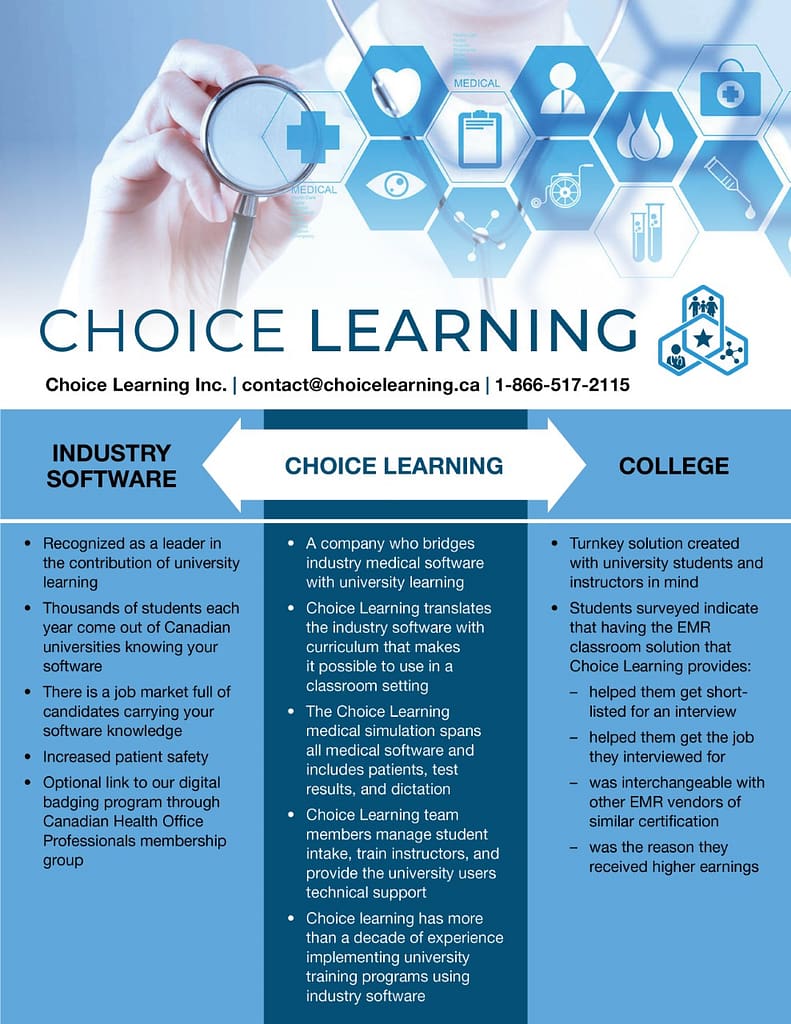 Ministry of Training, Colleges and Universities Mandate for the Office Administration Health Services Program

A new educational mandate indicates that students must reliably demonstrate the following:
Evaluate, establish and administer health records management systems.
Ensure confidential, secure, accessible and organized electronic and paper records.
Identify and use health records software for creating and maintaining health records.
Use appropriate storage, transfer and retrieval methods for electronic and paper health records including online storage and file sharing systems.
Use and maintain data within database software.
Maintain and evaluate existing health records management system and make recommendations for improvement.
Apply database concepts and knowledge of the health system to produce computerized billing records which comply with provincial guidelines.
Process and submit insurance claims related to health (HCP), Workplace Safety and Insurance Board (WSIB), Reciprocal Medical Billing (RMB) and other third party claims.
Use electronic data transfer (EDT) systems for health care claims.
Adapt to changing technology.
Choice Learning Inc. classroom solution can be customized to meet your college classroom requirements.
Using a leading edge software, the certified medical system (CMS) is a suite of medical software modules that provides computer-based medical records for physicians as well as administrative modules for billing and patient scheduling.
A global solution.  An EMR simulation for Canada and the U.S.
We have developed a classroom solution that exceeds the Office Administration – Health Services Program mandate.
Founder, Choice Learning Inc.
In 2008 I was teaching in the Office Administration Health Services program at Georgian College when a large group of doctors implemented an EMR in my community. One of the first groups to implement the shared EMR platform was the Barrie Family Health Team.
I contacted the EMR vendor for facts to share in the classroom and they offered me a position as an implementation analyst. I accepted and I left teaching for two years to work for Clinicare Corporation.
By 2010 I was bringing what I learned in the industry back into the classroom, finding ways for student's EMR entries to be accurately assessed. This founded the "the EMR accelerator".
Health Office
Health Information Management
Personal Support Worker
Nursing
Naturopathic Medicine
Speech Language Pathology
Midwifery
Physiotherapy
Massage Therapy
Other programs: We encourage you to inquire to see if our solution fits your needs. 
Building Inspiring Solutions
Creating custom solutions for your classroom.
Laura Keast and her team are delighted to support the following charities:
Provincial Dog Rehabilitation Centre
Ontario SPCA and Humane Society Spay/Neuter Services